A Battle of Good! vs. EEEEEVIL!
Today is an important battle in the war of good vs. evil, namely Nebraska vs. Colorado in football. And if you don't know which is good and which is evil YOU might be evil. For absolution sing "There is no place like Nebraska" five times. Appropriately, CU is wearing all black and the Cornhuskers are wearing all white. I found this picture on the internets, though I think my sissy and I could do a better job of taking down some buffaloes!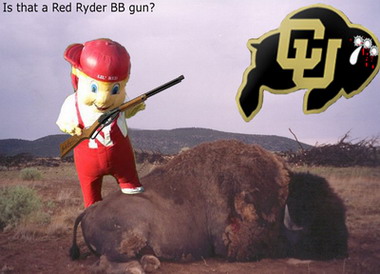 Imagine THIS mug in your face, stinky buffs!
But first, I have a small message for the Buff-loes!
And meet Ralphie, the CU mascot:
So my ma ape got me a little diversion for during the game--a BUFFALO BONE! Yup, a little bit of Ralphie.
So I put on the red and black bananadana from my GooberStan, put my bone on my lovely new blankie and I'm ready to root for the Huskers! Go Huskers!
Yup, tastes like victory!
In tomorrow's episode of Good vs. Evil, Kansas vs. Missouri! Do they sell Tiger bones?
Labels: cornhuskers, food, football, good vs. evil, morality, Wally