Baby Pictures!
Everyone else is posting their baby pictures and I felt kind of left out. I didn't get adopted until I was ripe--probably 6-8 years old. A lady never tells her real age. So I have no actual baby pictures.
I thought I would try to recreate my childhood with some speculation of what I must have looked like as a wee one.
Perhaps my fur did not darken until I was older when I became a sleek, sea-faring cutie: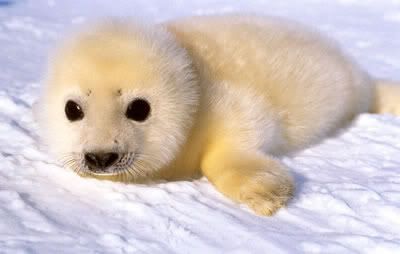 Or perhaps I was a fearsome beast like this (with a little boost from my mum):
Here's what my sissy looked like, I'm sure. Maybe a little less spotty:
Here's one of my ma's baby pictures. She's gone downhill since then.
We were watching
Star Wars
this weekend (free HBO!) and speculated that when I'm old (which I certainly am NOT right now) this is what I will look like:
Amused not, I am.
Labels: ethel, i've been tagged, Wally